dolphinsinfo.com 1-6/2000 News Page
Dolphins will honor Marino on the 23rd of August.

(5/12/00)

The Miami Dlphins will hold a public tribute to QB Dan Marino. The tribute will feature Hootie and the Blowfish and other entertainers and famous athletes. Admission will be 2$ and will go to the Dan Marino foundation. Marino himself signed a deal to work for HBO, in their show inside the NFL. Marino said it's a good place to start his broadcasting career.
Dolphins go OT, CB, FB, S.

(4/16/00)

The Miami Dolphins addressed their running problems, or should I say tried to by drafting an offensive lineman with their first pick, a 2nd rounder. With the 53rd pick of the 2000 draft the Dolphins picked T Todd Ware of Mississippi. He is 6 foot 7 3/4 inches and weighs 325 pounds. His forty time is 5.0. He is a mean OL and his strong side is run blocking. He is supposed to challenge Brown for the RT spot. He is very durable and got better each year he played. He is supposed to be a one position player and will probably stay at tackle.

With their 3rd round pick the Dolphins took Ben Kelly, CB of Colorado, he is expected to play in nickel situations and return kicks. With the eventual derparture of T-Buck, Miami needs another CB especially with todays multiple 3 reciever sets. He's 5'8', 184 and runs the 40 in 4.45-4.59. He is supposed to be a very good cover corner and likes the bump and run coverage.

Miami took with its 4th round pick (117 overall) FB Deon Dyer from North Carolina. His up side is his blocking, can carry the ball but it's not his upside. He's 5'11', 264, 5.0, he can pick up the blitz. He has great strength and size. He can help on special teams, will try to compete for Rob Korad's backup place.

With the 5th round pick (152) Miami picked Arturo Freeman, 6'0 3/8, 190, 4.56. DB of South Carolina. He was injured and almost didn't play in 98 He was pretty good in 96-7. Played out of position at CB in 99 and wasn't very good. adds depth to Miami's S position with the departure of Shawn Wooden to the Bears via free agency.

With the first selection of the 6th round (167) Miami took DL Earnest Grant (6'5' 1/4 , 315, 5.35) out of Arkansas Pine bluff. The word on him is that he has good size, and can be quick.

The Dolphins traded P Bartholomew to the Bears for 2 7th round picks, this year and in the next draft. Miami acquired pro bowl P Turk from the Redskins earlier in the season, so after all they ended up with an extra pick.
In the 7th round they picked CB Jeff Harris of Georgia (6'0' 205 lb.). According to team officials Harris was the best player left in Miami's draft board.

The data from NFL.COM
Dolphins getting ready for the draft.

(4/6/00)

The Miami Dolphins are getting ready for the April 15-16 draft. Former coach Jimmy Johnson and former Steeler personell man Tom Donahoe will consult the Dolphins on the draft.
Miami does not have a first round pick because they traded it to Carolina for Carolina's second round pick which was used to draft CB Patrick Surtain. Miami also traded its 7th round pick for QB Jim Druckenmiller. That's why the Dolphins have only 5 picks, one in each round (2nd to 6th).

Miami's highest pick is the 53rd pick, late in the second round. It is not expected that Miami will try to trade up because they don't have anything to trade in and coach Wanstedt said he doesn't want to trade players for picks. (Although there were rumors concerning a possible trade of LT Ricmond Webb earlier in the off season).

The Dolphins don't have a lot of room under the salary cap despite Jimmy Johnson's declerations that he took a bad managed cap team and left a good salary-structure team. Despite Marino's retirement Miami has only little room under the cap and it will need the money to sign the rookies and free agents that will be available after the teams start cutting players again after June 1st (the date, again, is cap related).

The bad news is Miami must try to sign contract extentions with a few of its stars that will be free agents next off season. Among them are all of the defensive line - Gardener, Owens, Taylor and Bowens ( Bowens can void his contract after this season and be a free agent and his agent said it's probably what he will do). Sam Madison will also be a free agent next off season and with his cover skills and INT numbers (15 in last 2 seasons , tops in NFL), he will command a huge salary. Taylor is a restriceted free agent, Miami has offered the 1 year offer, making him an unrestricted free agent next year.

The NFL Announced its 2000 schedule. The Marino retirement effect already began with Miami having only one Monday night game. Miami also plays a Sunday night game against the Ravens. According to reports at the Sun-Sentinell it's likely that Marino's ceremony (retiring jersey, ring of honor etc.) will be moved from the planned first home game to the second home game (the sunday night game) because the first home game is at 4:00 pm and has less rating and the team has to make sure they extend the halftime to make time for the ceremony. Miami also start with a few home games and then has a strech of 4 road games in 5 weeks later in the season. If the team wants to make a playoff run it should start good and fast.
Dolphins agree to terms with Jackson.

(3/22/00)

The Miami Dolphins have agreed to terms with safety Calvin Jackson. The sun-sentinel has reported that the team and Jackson agreed on a two year deal. Jackson who started most of last season at strong safety will compete for the spot with free agent Brian Walker. Walker was with the team in 98 before signing with the Seahawks.
The team also sigend free agent TE O'Donnel. O'Donnel wasn't drafted and did not play last year.





Dan Marino announced retirement

(3/13/00)

Dan Marino, best quarterback ever, announced his retirement from football. Marino, the most prolific passer in NFL history made the announcement at a special press conference. The Marino era ended at 10:00 AM EST on March 13th 2000. Marino said he retired because of a combination of health and family issues. Owner Wayne Huizenga has announced that number 13 will be retired, a statue of Marino will be placed at the stadium and a street will be named after Marino. Marino said he will miss the game and the excitement on sunday afternoons. He thanked his family, friends, agent players and of course the fans. He emphasized his thanks to coach Shula and the Marks brothers, Mark Clayton and Mark Duper and owner Huizenga.

It's a sad day for dolfans, we will all miss him. There will never be another QB like Danny, but we'll cherish the memories Danny has given us.

An extended photo gallery with Dan's photos was added to the photo gallery page. Special pages about Dan with every stat from every game he played in including his retirement speech were added to this site.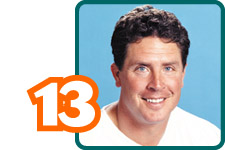 Dan's official Photo from the Dolphins website.




Dan Marino, best passer ever, will announce retirement on Monday

(3/10/00)

Sources close to Danny have reported that Dan Marino will make the official announcement on Monday. Marino has rejected the Vikings offer to be Minnesota's starting QB. Reports say that after evaluating his health and the fact that he doesn't want to move his family Marino decided that it was time to retire. Marino didn't want to finish like other QBs (Unitas, Namath, Montana) that finished their carrers away from the place that made them famous, in most cases finishing their carrers pathetically.
Vikings offer Marino starting QB job

(3/7/00)

Reports say that Minnesota head coach Dennis Green has offered Dan Marino the Vikings starting QB job for next season. Green has made it clear that he is not interested to re-sign Jeff George. He will also cut QB Randall Cunningham for salary cap reasons. Sources close to Marino say that the QB doesn't want to move so far from his home in Weston. He will probably make his decision by the end of the week. Green has assured Marino that he could make the off season conditioning program in Miami and that special coaches will come to Miami to go over the Vikings offense with Marino. Sources close to the Floridian legend say that he will either accept the offer or retire. The chances of him returning to Miami seem slim, after the team signed QB Jay Fielder and Miami also has Huard, Zolak and Druckenmiller on their roster.
Wooden signed with Chicago

(3/7/00)

Starting safety Shawn Wooden has signed with the Bears for 3 years. Miami has lost to Chicago in a 3 team race to sign Wooden (K.C was the 3rd team). Wooden has split time with unrestricted free agent Calvin Jackson. Wooden, the 6th round pick in 1996, has played with Miami since his selection. The urgency to sign Jackson is even greater now.
Webb agrees to franchise tag, sign Bock, Haley.

(3/4/00)

The Miami Dolphins have signed LT Richmond Webb to the franchise tag. Webb agreed to the one year deal worth over 4 million dollars a year. The franchise tag is an average of the top 5 salaries at the position. The Miami papers are saying that the team is shopping Webb around for draft picks. Webb salary cap hit is big and that makes the upside of signing him to a lesser salary less attractive.
The team also signed OL John Bock who played with the team the last couple of years. He was injured midway through the season and put on injured reserve.
Miami has also signed last year's 7th round pick Jermaine Haley. Haley was drafted last year but had a contract to play in Canada. Haley, a defensive tackle, will try to compete for a backup job.
Dolphins sign Irwin. Release Gogan

(2/25/00)

The Dolphins signed former Patriots G Heath Irwin and also signed former New York Giants LB Scott Galyon. The team has released G Kevin Gogan. Gogan played one year with the Dolphins after playing 12 years in S.F, Dallas and Oakland. Gaylon was a reserve LB with the Giants. Miami is tryig to upgrade the OL. They tried to sign Rams Center Ryan Tucker, but his offer was matched by St. Louis and he is staying there. Bills' pro bowl Guard Ruben Brown could visit the team next week if he is not signed by the Lions. The Gogan move saved about a million dollars under the salary cap. The team has left the door open for Gogan who will try to taste the free agent market. Currently, Brown is looking for a 4.5 million a year deal. The Miami newspapers said the team will not pay that much money, but if his price goes down the team will strongly consider the pro bowl guard.




Dolphins sign Fiedler. Marino won't return

(2/18/00)

The team have signed a deal with unrestricted free agent QB Jay Fielder. Fielder has started only one game in his carrer, a meaningless season finale against the Bengals. Coach Wannstedt wants to have an open race for the starting QB job between Fielder and Huard. That move pretty much seals the fate of Dan Marino. His chances of returning and given a fair chance to compete for the starting role are slim to non-existance.
On a personal note I just don't see the sense in bringing a QB that has started only one game against the Bengals, of all teams, the Bengals... The Cincinnati "Dillon, Pickens and the other 43" Bengals, they were one of the 3 or 4 worst teams in the league so how much can we learn from that game ? Fielder was out football in 96-97, He was a third string QB his first years with the Eagles, and he was a backup with the Vikings in 98' (going 4 of 7 with 1 INT) and played last year as a backup to the Jags' Brunell.
If the team went for a big shot QB like George I would have understood but replacing Marino with Fielder ? F-i-e-l-d-e-r, come on... He signed a 3 year deal in the 1.3 million a year range (WQAM reported 3.8 million for 3 years). That deal is a pretty similar deal to Huard's deal that was signed late last year. The team will start the year on March 20th begining to learn the new offense.
Marino voids contract

(2/14/00)

Dan Marino has voided his last 2 years of his contract with the Dolphins. He is now a free agent. The team doesn't really want him back and they aren't saying it just because of a fear of bad PR. Marino can either retire, sign with another team (only Tampa bay comes to mind because Marino doesn't want to get away from his home), or re-sign with Miami for a lesser ammount of money. The most realistic option looks to be retirement but we can only guess. We will just have to wait and see. We could be coming closer to that day we dolfans never thought will come, the retirement day. Miami is looking at free agent QBs for the first time in 17 years...
Drayton released

(2/14/00)

TE Troy Drayton was released from the Dolphins because of salary cap issues. Arizona is already among teams showing interest in Drayton. His release also put Miami in the market for a starting TE. Drayton was acquired via trade from the Rams 4 years ago.
Mike Shula named QB coach

(2/7/00)

Former Buccs offensive coordinator and son of the legendary Dolphins coach Don Shula, Mike Shula was named QB coach of the Miami Dolphins. Shula was the offensive coordinator for the Buccs for 4 years before being fired last week. Mike Shula played QB at the University of Alabama and was a 12th round selection of the Buccs 12 years ago.
Chan Gailey named offensive coordinator

(2/1/00)

Former Cowboys head coach, Chan Gailey, was named offensive coordinator on tuesday. Gailey was the head coach at Dallas the last couple of years. He was fired after an 8-8 season and a wild card loss to the Vikings. Prior to his job in Dallas Gailey was the offensive coordinator of the Pittsburgh Steelers.
Jim Bates named defensive coordinator

(1/24/00)

Jim Bates is the new defensive coordiantor the Dolphins announced today. He replaces George Hill who was fired a few days ago. Clarence Brooks the Browns defensive line coach was named the new defensive line coach.
Bates is coming from an assistant job in Dallas. Bates has coached with/under Wannstedt for 7 years, 6 in Chicago and a year in Dallas. Bates and Wannstedt said that the defense will not change a lot. Bates has coached all of the defensive positions in th NFL. He also coached in college. Bates was a coordinator and a head coach in the USFL. Wannstedt emphasised that the defensive line will need to improve. They will start the personell decisions in the coming few weeks. Bates' background is the secondary, he said he likes to be more versatille as far as mixing the bump and run with normal coverages.
Between 1970-2000 the Dolphins appeared in 38 playoff games. They led in the half in 15 occasions and in those 15 games the Dolphins are 11-4. In all playoff games the Dolphins are 20-18.