Links to:
Football tickets are here for the taking. Our Dolphins and Dallas Cowboys seats are unbeatable. Check out our Colts seats, too.


The above links are not connected to this site
Dolphins dominate in 45-15 win
Phins open 3 game division lead
The Dolphins dominated the Commanders in all phases of the game in a one sided 45-15 win at Washington. Tyreek was just unreal catching 4 passes for 152 yards and 2 scores of 78 and 60 yards all by HALFTIME. He almost did not play in the second half. Tua was very close to perfect with a 141 rating. He finished 18 of 24 for 280 yards and 2 TDs. The Commanders could not move the ball on Miami's defense and Andrew Van Ginkel starting for the injured Philips had a pick 6 to go along his stellar game. The team closed the game with a 13 play drive that inluded 13 rushes... The only down side was injuries both to starting LB Jerome Baker (Duke Riley replaced him) and T-Stead. With Lamm injured Kion Smith played LT and did OK. Robert Hunt also had an injury after returning to the lineup. Liam Eichenberg replaced Cotton as the starting LG and did a very good job. Mostert had his 14th rushing TD of the year (16 total) just 2 shy of Ricky Williams' franchise record of 16. Achane added just over 100 total yards and 2 more scores.
For game grades
Wait is finally over,
Zach Thomas elected into Hall of Fame
Becomes Miami's 11th Hall member
Long overdue.

Dolphins legendary LB Zach Thomas was elected into the Pro Football Hall of Fame. The 7 time probowl (when probowl was a real thing) and 5 TIME FIRST TEAM ALL PRO, the heart and soul of Miami's defense in the late 90s and early 2000s was elected after waiting 10 years and making the final round 4 times.
Zach was the heart of the defense playing inside LB for 12 years begining in 1996. He was drafted as an undersized 5th round LB by Jimmy Johnson and he made his mark right from day one. He was so good coach Johnson waived free agent LB Jack Del Rio and Thomas would go on to start from day one. He earned AFC defensive rookie of the year in his rookie season and led a defense that was always ranked very high. He finished his carrer with a mind blowing 1734 tackles. So deserving to get into the Hall, Thomas finally made it, he will be enshrined in Canton as a member of the Dolphins this August.
Dolphins hire Mike McDaniel
McDaniel becomes 14th coach in franchise history
The Miami Dolphins have hired San Francisco 49ers offensive coordinator Mike McDaniel as their new coach, making him the 11th full time and 14th overall coach. McDaniel had worked under 49ers coach Kyle Shanahan for the past 11 seasons and gets his first shot as a head coach after one year as offensive coordinator and 3 years as run game coordinator. McDaniel was credited for his role in developing San Francisco's creative running game and could help the development of WR Jaylen Waddle. The Dolphins struggled offensively this season despite finishing 9-8 and that is probably why they were looking for an offensive minded coach. The Yale-educated McDaniel got his coaching start on Mike Shanahan's staff in Denver in 2005. He worked as an assistant in Houston, Washington, Cleveland and Atlanta. McDaniel then joined Shanahan's staff in San Francisco run game coordinator and took over the offensive coordinator role in 2021.
2012 Draft flashback - Dolphins select QB Ryan Tannehill
Becomes first QB chosen in 1st round since 1983

Dolphins QB Ryan Tannehill

It's been exactly 29 years to the day since the Dolphins selected a QB in the first round. In 1983 it was hall of fame QB Dan Marino. In 2012 it was Texas A&M star Ryan Tannehill.
The Dolphins made the 6'4' Texas A&M QB the third QB taked in the 2012 draft and the first first round QB taken by the Dolphins since Marino.
Tannehill played WR in his first two years in college and then switched back to QB. He started just 19 games at the position. Having played WR (he led the team in receptions) he is very athletic and runs the 40 in 4.6. He played under now Miami offensive coordinator Mike Sherman, that familiarity by Sherman certainly helped the Dolphins in the vetting process. Most so called experts think that Tannehill needs time to develop and even if that's the case the Dolphins have other options for this year.
dolphinsinfo.com Editorial
dolphinsinfo.com was established in 1999 to help Dolphin fans everywhere in the world get updated with Dolphins' info. The site is still, as always, a work in progress, and any suggestions will be welcomed...
We at dolphinsinfo.com have tried to make something different and that's why we have put the emphasis on Dolphins' stats and any information on the Dolphins. Especially the kind of info you won't find anywhere else.
dolphinsinfo.com features recaps on all the Dolphin games and all you will ever need to know about the Dolphins.
You can also find in our site, past and present rosters, Dolphins records, Dolphin facts, news about the the team, photos of team members in the past and present, season summaries, schedules, links to other Dolphin sites, all the info about great games that team members have had in the past and a Mega Marino area with all the stats from every game he has ever played in.

dolphinsinfo.com now features all the stats from every year the Dolphins played along with all the scores from the first game in 1966 till the last one. See the stats page. dolphinsinfo.com also includes all the Marino stats from every game Marino ever played in from the first pass in college to the statement released by President Clinton when Danny retired. See the Marino section.
MARINO ENSHRINED IN HALL OF FAME
Throws last pass to Clayton


Above, Dan Marino's bust in Pro Football's Hall of fame.
At the bottom, Marino receives his hall of fame gold jacket
Dolphins' legendary quarterback and the most prolific passer in NFL history, Dan Marino, is now a hall of fame quarterback. Marino, considered by many the greatest quarterback ever, has been elected to pro football's shrine in his first year of elegibility. Marino is the owner of more than 20 NFL passing records including most TDs (420), most passing yards (61,361), most completions (4,967), most attempts (8,358), most games 300 yards passing (63), most games 400 yards passing (13), most games with 4 or more TDs (21) and most yards in a season (5,084). There are 229 members in the hall of fame, less than a quarter of them were elected in their first year of elegibility. 49ers coach and hall of famer, Bill Walsh, who coached both Steve Young and Joe Montana, said "we will never see anyone like him again".
Marino was (and still is) the only rookie ever elected to the probowl. He was elected the starter... It was the first of his 9 pro bowl selections. His second year was the best season by a quarterback ever and perhaps the best year by any player ever, throwing for 362 completions on 564 attempts for 5,084 yards and 48 TDs. All of them were NFL records. The yardage mark is still a record. The TDs record was broken in 2004 after the rule changes made passing easier. Before 2004 the only player that ever came close to the TD record was Dan himself when he threw 44 in 1986.
Thousands of Dolphins fans made the pilgrimage to Canton, Ohio. To a long standing ovation Marino was introduced by his son Danno. The presentation speech by Dan's son was one of the most memorables and emotional presenting speeches in years as he talked about his Dad's private life and his relationship with the Florida community. He mentioned Dan Marino's children's hospital founded by Marino and the Dan Marino foundation.
Marino had a memorable and emotional speech. Marino thanked his fellow players and coaches through the years, his high school and college coaches. He called Don Shula the best coach ever. He thanked the Marks Brothers - Mark Clayton and Mark Duper and center Dwight Stephenson. He said the thing he misses the most is going out of the tunnel as the starting QB of the Miami Dolphins. After thanking his family, he wanted to do one thing one last time. Marino completed 538 balls to Mark Clayton and he wanted to do it one more time. Marino licked his fingers as he did for 17 seasons in Miami, his son gave him a football as Mark Clayton went deep one last time Marino finished his speech with a perfect deep spiral caught by Clayton for the last time.
The story of the best quarterback ever is now complete - Dan Marino, Hall of Fame Quarterback.
Dan Marino Retirement speech and the Marino section
"After 17 years I would like to announce my retirement from the Miami Dolphins. After playing the game of football most of my life, this was an extremely difficult decision. But I know that I had made the right decision for me and my family. I am very proud of the success that we have had as a team for 17 years, as well as all my individual accomplishments. Not many people have an opportunity to spend 17 years of their life doing what they truly love to do. And as I stand here before you today, I can say that I had been blessed with a career greater than I could have ever imagined..."
For the full speech go to our Dan Marino section with every stat from every game Marino ever played in.
| | | |
| --- | --- | --- |
| Dolphins | 9-3 | 3-1 |
| Bills | 6-6 | 2-2 |
| Jets | 4-8 | 1-3 |
| Patriots | 2-10 | 2-2 |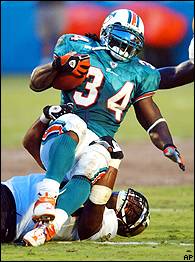 RB Ricky Williams