Links to:
Football tickets are here for the taking. Our Dolphins and Dallas Cowboys seats are unbeatable. Check out our Colts seats, too.


The above links are not connected to this site
Dolphins go defense in first 3 rounds
Dolphins select DE Charles Harris in 1st
Fins go defense in first 3 rounds
The Dolphins obviously understood the defense needed an upgrade. The Dolphins stayed with their 3 picks and took 3 defensive players with all 3 of them. They took a pass rusher in DE Charles Harris of Missouri in the first round (22nd selection) Harris is 6'3 253 pounds and looks long like Wake. He will enter the DE rotation with Wake, Branch and newly signed free agent Hayes. In the second round the Dolphins took Ohio State ILB Raekwon McMilan. The Dolphins have now 3 ILB in Alonso, newly signed Timmons and McMilan. He will battle with often injured Misi and Hewitt for a staring position. In the 3rd round the Dolphins took another CB in Cordrea Tankersley from Clemson. The Dolphins really did not need a CB for 2017 but in 2018 Byron Maxwell's salary cap reaches 10 million so they are basically thinking long term. The problems that were not fixed in the first 3 rounds and will probably won't be fixed until the next wave of free agents if at all is the team still doesn;t have a Guard to compete with LG Ted Larsen and RG Bushrod, they don't have someone to compete or backup DT Jordan Philips and ther safety position next to Reashard Jones is iffy with Nate Allen starting and TJ McDonald coming back from suspension week 9.
Season over with 30-12 loss in wildcard round
Fins end respectable season after tough loss
The Dolphins got behind the Steelers early in the first quarter and they were really not in the game in the second half. The Dolphins ended their respectable season with a 30-12 wild card playoff loss to the Steelers. You can look at the 2016 in two ways, the first, the Dolphins had a rookie coach and a ton of injuries and still made their first playoff appearance since 2008. They managed to play significant amount of time without both safeties - Reshard Jones and IAQ, starting CB in Maxwell and two starting LBs in Misi and Jenkins. The offense was without Pouncey and Tannehill and the RB they thought would start retired after games. With all that they still finished with a 10-6 record and in the playoffs. You can also look at it another way and say they had a chance to win a plyoff game and they were just never in it and it is frustrating and righfully so. We got used to the Dolphins pulling something off and they nearly did at the end of the half to cut the lead to 6 but a turnover doomed their playoff game and their season. At least the team knows they found their man in Adam Gase and the future looks bright. It's hard to see it now but Miami finally looks as if they are on the right path with a good coach and an improved offense. The QB situation is getting better, they fould their featured RB and if they keep Stills they have a dedent and a very young group of WRs. They still another TE. The defense is another matter. The run defense was just awful. They will go into the offseason knowing they need a ton of LB (including ILB help), the secondary is thin and they could also use another D-lineman as Wake is not going to be around forever. But that's for another time.
Meanwhile,

Thanks for a great Season Dolphins!!!

For the game grades click here
Dolphins 2016 flashback - Dolphins hire Adam Gase as Head Coach
Gase becomes Dolphins 12th coach in history
Named 9th full time coach

Dolphins Head Coach Adam Gase

The Miami Dolphins decided to hire Broncos and Bears offensive coordinator Adam Gase as the team's next head Coach.
Gase becomes the 12th head coach in team history (9th full time). Gase served as the Bears offensive coordinator last year after spending 2013-2014 in the same position in Denver. He is 37 years old becoming the youngest head coach in the league and the youngest in Dolphins history (Shula was 40 when he was hired in Miami after serving 7 years as the Colts head coach). Gase has never been a head coach in any level.

Gase is expected to call plays depending on who he names as OC. The Dolphins have hired Bengals secondary coach Vance Joseph as the team's next defensive coordinator. Special team coordinator Darren Rizi is expected to stay although no official word is out yet. Former Dolphins coach Joe Philbin will be offensive line coach in Indianapolis and Dan Campbell is expected to join the Saints staff.
2012 Draft flashback - Dolphins select QB Ryan Tannehill
Becomes first QB chosen in 1st round since 1983

Dolphins QB Ryan Tannehill

It's been exactly 29 years to the day since the Dolphins selected a QB in the first round. In 1983 it was hall of fame QB Dan Marino. In 2012 it was Texas A&M star Ryan Tannehill.
The Dolphins made the 6'4' Texas A&M QB the third QB taked in the 2012 draft and the first first round QB taken by the Dolphins since Marino.
Tannehill played WR in his first two years in college and then switched back to QB. He started just 19 games at the position. Having played WR (he led the team in receptions) he is very athletic and runs the 40 in 4.6. He played under now Miami offensive coordinator Mike Sherman, that familiarity by Sherman certainly helped the Dolphins in the vetting process. Most so called experts think that Tannehill needs time to develop and even if that's the case the Dolphins have other options for this year.
dolphinsinfo.com Editorial
dolphinsinfo.com was established in 1999 to help Dolphin fans everywhere in the world get updated with Dolphins' info. The site is still, as always, a work in progress, and any suggestions will be welcomed...
We at dolphinsinfo.com have tried to make something different and that's why we have put the emphasis on Dolphins' stats and any information on the Dolphins. Especially the kind of info you won't find anywhere else.
dolphinsinfo.com features recaps on all the Dolphin games and all you will ever need to know about the Dolphins.
You can also find in our site, past and present rosters, Dolphins records, Dolphin facts, news about the the team, photos of team members in the past and present, season summaries, schedules, links to other Dolphin sites, all the info about great games that team members have had in the past and a Mega Marino area with all the stats from every game he has ever played in.

dolphinsinfo.com now features all the stats from every year the Dolphins played along with all the scores from the first game in 1966 till the last one. See the stats page. dolphinsinfo.com also includes all the Marino stats from every game Marino ever played in from the first pass in college to the statement released by President Clinton when Danny retired. See the Marino section.
MARINO ENSHRINED IN HALL OF FAME
Throws last pass to Clayton


Above, Dan Marino's bust in Pro Football's Hall of fame.
At the bottom, Marino receives his hall of fame gold jacket
Dolphins' legendary quarterback and the most prolific passer in NFL history, Dan Marino, is now a hall of fame quarterback. Marino, considered by many the greatest quarterback ever, has been elected to pro football's shrine in his first year of elegibility. Marino is the owner of more than 20 NFL passing records including most TDs (420), most passing yards (61,361), most completions (4,967), most attempts (8,358), most games 300 yards passing (63), most games 400 yards passing (13), most games with 4 or more TDs (21) and most yards in a season (5,084). There are 229 members in the hall of fame, less than a quarter of them were elected in their first year of elegibility. 49ers coach and hall of famer, Bill Walsh, who coached both Steve Young and Joe Montana, said "we will never see anyone like him again".
Marino was (and still is) the only rookie ever elected to the probowl. He was elected the starter... It was the first of his 9 pro bowl selections. His second year was the best season by a quarterback ever and perhaps the best year by any player ever, throwing for 362 completions on 564 attempts for 5,084 yards and 48 TDs. All of them were NFL records. The yardage mark is still a record. The TDs record was broken in 2004 after the rule changes made passing easier. Before 2004 the only player that ever came close to the TD record was Dan himself when he threw 44 in 1986.
Thousands of Dolphins fans made the pilgrimage to Canton, Ohio. To a long standing ovation Marino was introduced by his son Danno. The presentation speech by Dan's son was one of the most memorables and emotional presenting speeches in years as he talked about his Dad's private life and his relationship with the Florida community. He mentioned Dan Marino's children's hospital founded by Marino and the Dan Marino foundation.
Marino had a memorable and emotional speech. Marino thanked his fellow players and coaches through the years, his high school and college coaches. He called Don Shula the best coach ever. He thanked the Marks Brothers - Mark Clayton and Mark Duper and center Dwight Stephenson. He said the thing he misses the most is going out of the tunnel as the starting QB of the Miami Dolphins. After thanking his family, he wanted to do one thing one last time. Marino completed 538 balls to Mark Clayton and he wanted to do it one more time. Marino licked his fingers as he did for 17 seasons in Miami, his son gave him a football as Mark Clayton went deep one last time Marino finished his speech with a perfect deep spiral caught by Clayton for the last time.
The story of the best quarterback ever is now complete - Dan Marino, Hall of Fame Quarterback.
Dan Marino Retirement speech and the Marino section
"After 17 years I would like to announce my retirement from the Miami Dolphins. After playing the game of football most of my life, this was an extremely difficult decision. But I know that I had made the right decision for me and my family. I am very proud of the success that we have had as a team for 17 years, as well as all my individual accomplishments. Not many people have an opportunity to spend 17 years of their life doing what they truly love to do. And as I stand here before you today, I can say that I had been blessed with a career greater than I could have ever imagined..."
For the full speech go to our Dan Marino section with every stat from every game Marino ever played in.
| | | |
| --- | --- | --- |
| Patriots | 0-0 | 0-0 |
| Dolphins | 0-0 | 0-0 |
| Bills | 0-0 | 0-0 |
| Jets | 0-0 | 0-0 |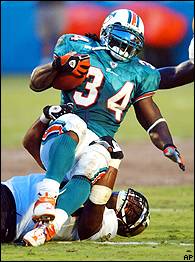 RB Ricky Williams